This morning we had a very special guest. Ella's mom, Amy, come in to share part of their Danish culture. First Amy showed us lots of pictures of Hans Christian Andersen and told us about his life and works. We learned that he was not always a writer, but used to be a weaver's apprentice and a taylor. We saw some of his amazing artwork, which included intricate cut paper figures and collage (much like the children are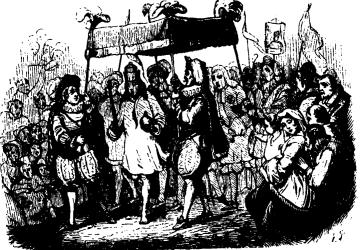 doing in Art class!). He loved to work with fabric and paper.
Ella's mom then read
The Emperor's New Clothes
, one of Andersen's most famous tales. Most children knew of the story and were thrilled to hear it - anticipating, no doubt, a possible glimpse of a naked emperor. Again, we thought of Andersen's early life as a weaver, as the scheming weavers in the story wove the "extraordinary fabric". I'm am thrilled and honored that Ella's family has donated a gorgeous hardcover book of Andersen's fairy tales to our classroom, to be read for years to come. Thank you!
Lastly, we learned that Hans Christian Andersen was the first to make the beautiful red and white woven hearts that are often a symbol this time of year. Red and white are, of course, the colors of the Danish flag. Danes often make them with their children, and use them to decorate their Christmas trees. We got to use lots of different colors and patterns of paper, all lovingly precut by Amy and ready to weave.
Such a thoughtful and beautiful presentation. Thank you, Ella and Amy!